Janine Fortin is a trainer in human relations and a lecturer. She was formed in the method ESPERE® (Specific Energy for an Essential Relational Ecology) with Jacques Salomé, a globally recognized psycho-sociologist, the founder of this new approach to communication. She transmits the method to parents, children, couples, organizations and the school environment.
Beyond her knowledge and practice, Janine Fortin presents an approach to communication that allows you to be and to become. Janine is currently offering online training related to this method.
A member of the ESPERE International Institute since its inception and president of this organization from 2013-2017, Janine has been actively involved in the dissemination of this new method, in Quebec and France, the country of origin of the ESPERE® Method.
Catherine Hospital is a specialized educator and trainer. She worked for thirty years with children and adolescents with behavioral or personality difficulties.
The longest period of her career was spent offering these children artistic mediation. Her main purpose is to bring young people closer to the classical educational institution.
Her approach has always been based on stimulating sensory-motor skills, respecting free expression (following Arno Stern's model). Catherine therefore has a vast experience related to accompanying children faced with traumatic situations, victims of various forms of aggression.
Recently, she decided to give a new impulse to her career, becoming a parent trainer and staff specializing in working with children. The meeting with Boris Cyrulnik was the trigger factor in making this career development decision, as the great neuropsychiatrist proposed to share her experience, becoming a trainer at the Petite Enfance-Boris Cyrulnik Institute.
Valentina Marinescu is a Ph.D. professor at the Faculty of Sociology and Social Work- University of Bucharest. Her research interests are related to media and communication in Eastern Europe- especially in Romania.
In 2012-2015 she was a member of the Romanian team for the Net Children Go Mobile project funded by Safer Internet 2012. The project was coordinated by Giovanna Mascheroni, Universita Catolica del Sacro Cuore, Milan, Italiy. From 2008-2011 she was a member of the Romanian team for the EUKIDS Online II project. The project was coordinated by Sonia Livingstone, London School of Economics, Department of Media and Communication. Her research interests are: mass media, communication, internet studies.
Daniela Rovența-Frumușani is Professor Emeritus at the University of Bucharest, Faculty of Journalism and Communication Sciences, Department of Cultural Anthropology and Communication. For seven years she has been coordinating the Francophone Master's Degree in Media – Development – Society, in collaboration with Université Lyon II Lumière (France).
Member of the Doctoral School of Communication Sciences and of the Interdisciplinary Doctoral School of the University of Bucharest, she coordinated fifteen doctoral theses on topics such as: discourse analysis, semiotics, gender study. Specializing in these disciplines, she is the author of 6 works with a single author, over 80 studies and articles published in specialized magazines, being the coordinator and publisher of five international publications.
Member of the International Sociology Association, Daniela-Rovența Frumușani is also, since 2010, a member of the Steering Committee RC14 (Network of Researchers in Communication Sociology), of the International Association of Pragmatics, of the International Association of Francophone Sociologists and member of the following publications:  Feminist Research, Communication, Essachess, French Journal for Media.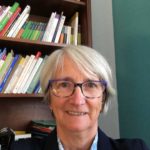 Marie Paule Thollon Behar is a doctor of Developmental Psychology. For many years, she has accompanied nursery teams for training and analysis of practices, with the precise objective of providing an optimal qualitative classification to early age children.
Involved in the research, she participated in various studies initiated by the European Commission on the professional competences of the staff working in nurseries and the early prevention related to providing an optimal framework for children. She coordinated and published various works, being the author of numerous articles in specialized magazines.
Teacher at the school of practicing psychologists, intervenes in the formation of future psychologists in France. Her research topics are focused on new discoveries regarding neuroscience in early childhood, the quality of the parental relationship of the newborn, the development of communication and language and the practices that favor them, the well-being of the staff working in nurseries and kindergartens.